Best-practices & guides for Node-RED
How to Get Missing Plugins in Node-RED
In this tutorial, you will learn how to add unknown nodes in Node-RED that are missing and have a red outline. You may encounter this problem when deploying your flow, and this guide will help you resolve the issue.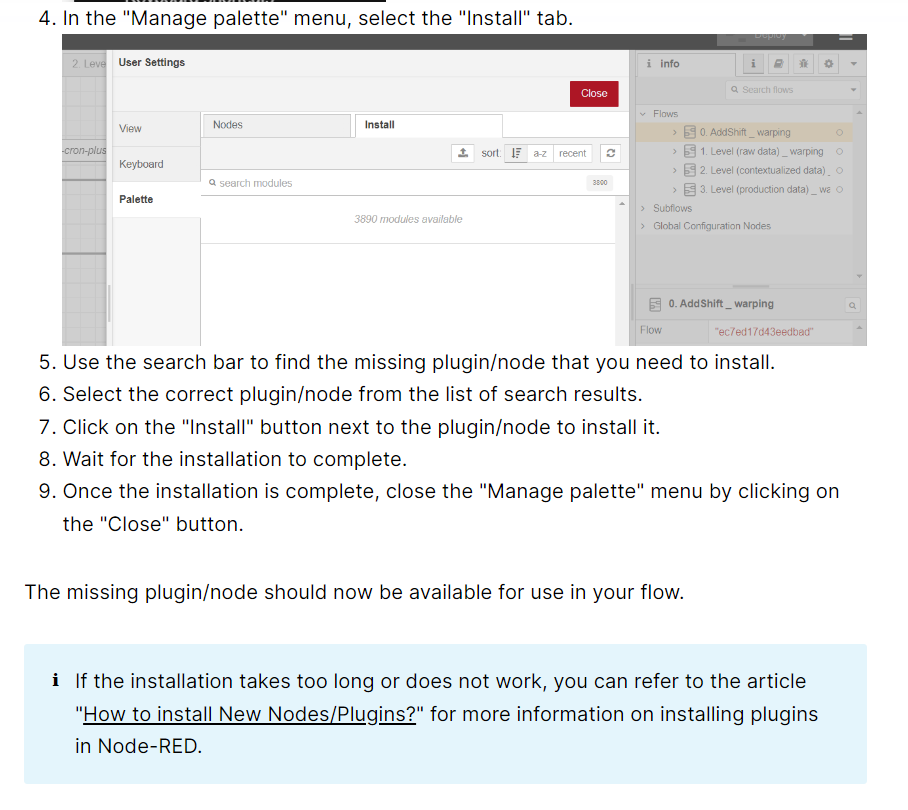 Node-RED is an open-source flow-based programming tool that provides an easy-to-use graphical interface for developing applications. Sometimes, you may encounter a missing plugin when deploying your flow, which can prevent you from deploying the flow properly. In this guide, we will provide step-by-step instructions on how to get missing plugins in Node-RED.
Instructions
Open Node-RED in your web browser.
Click on the "Menu" button in the upper right-hand corner of the screen.
Select "Manage palette" from the drop-down menu.

In the "Manage palette" menu, select the "Install" tab.

Use the search bar to find the missing plugin/node that you need to install.
Select the correct plugin/node from the list of search results.
Click on the "Install" button next to the plugin/node to install it.
Wait for the installation to complete.
Once the installation is complete, close the "Manage palette" menu by clicking on the "Close" button.
The missing plugin/node should now be available for use in your flow.
ℹ️
If the installation takes too long or does not work, you can refer to the article "
How to install New Nodes/Plugins?
" for more information on installing plugins in Node-RED.
Want to Learn More?
Discover guides on Unified Namespace, IT/OT architecture, and essential tools. Start your journey with the United Manufacturing Hub today!