OT is the hardware and software to manage, monitor and control industrial operations. Its tasks range from monitoring critical assets to controlling robots on the shop floor. It basically keeps machines and factories running and producing the required product.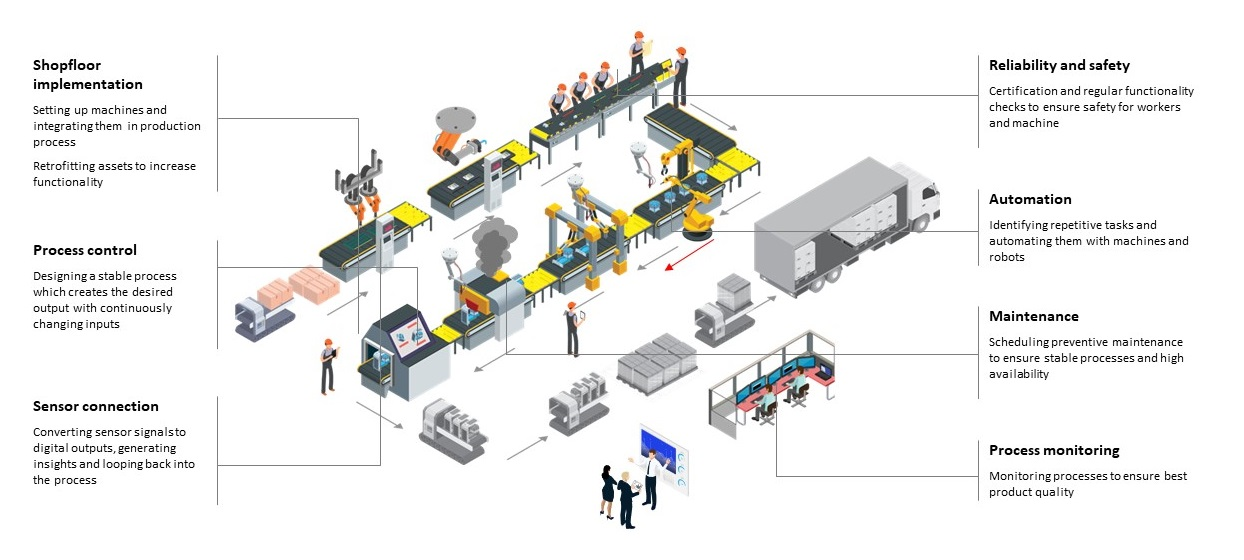 As you can see, OT has a wide array of topics to handle: from process monitoring and control, over safety and implementation concerns, to automation and maintenance.
Typical responsibilities:
Monitoring processes to ensure the best product quality
Controlling machine parameters
Automation of mechanical and controlling processes
Connecting machines and sensors for communication
Maintenance of machines and assets
Certifying machines for safety and compliance
Retrofitting assets to increase functionality
And many more…
Typical vendors for Operational Technology:
What is important in OT?
Nobody wants to build a nuclear reactor using agile "move fast, break things" principles
As promised, this is similar to what we've seen earlier in the Information Technology chapter
High importance
| Category | Description |
| --- | --- |
| Reliability & Safety | Malfunction can result in extreme damages to human and property |
| Maintainability & standards | Machines typically run between 20-30 years, sometimes even 50+ years |
| Certifications | Legally required certifications for safety and optional certificates for reliability |
Of lesser importance:
| Category | Description |
| --- | --- |
| User experience | OT programmer are usually not specifically trained to supply a quality UX |
| Quick development cycles, e.g., agile | Can result in missing out important safety elements and damage workers or machines |
| IT Security | Since machines can run decades unchanged, IT security needs to be addressed outside on a network-level |